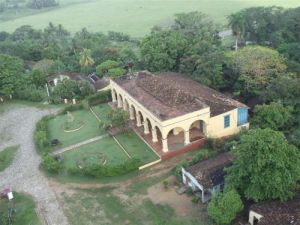 Manaca Iznaga, is considered one of the most frequented tourist destinations in the vast Valle de los Ingenios (Valley of the Sugar Mills), which, along with Trinidad, welcomed the status of Cultural Heritage of Humanity in 1988.
The old mill San Francisco Javier, known worldwide as Manaca Iznaga, is one of the most toured areas in Trinidad, in southern Sancti Spiritus. The vast majority of visitors to the Cuban central province head directly for the UNESCO-declared World Heritage Site, one of the island's foremost tourist attractions.
The current plantation of Manaca Iznaga preserves extraordinary properties of heritage value as the dwelling house, the village where the slaves lived, the place which served as an infirmary, and, stunning in the landscape, the tower of 43.5 meters, erected in the first decades of the nineteenth century with the dual function as a watchtower and belfry.
Heirs of such architectural wealth, the people of Manaca Iznaga have learned to live with the legacy of centuries and today they contribute to enrich an anthropological site of undeniable importance.
[nggallery id=29]