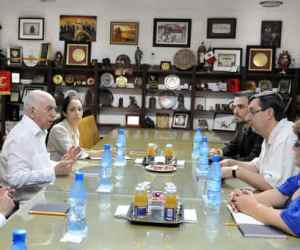 The Second Secretary of the Central Committee of the Cuban  Communist Party, Jose Ramon Machado Ventura, received on Thursday morning a delegation of the  Spanish Communist Party, headed by its General Secretary, Jose Luis Centella, and made up by other members of the federal leadership of that party and of Izquierda Unida (United Left).
The talks were held in the atmosphere of friendship that characterizes the historic relations between the two communist parties. The two parties ratified their willingness and interest to continue strengthening them.
Centella reiterated his firm solidarity with the Cuban Revolution and his total readiness to work in favor of the causes defended by the Cuban people. For his part, Machado told visitors about the march of the implementation of the guidelines and objectives approved by the 6th Congress and the First National Conference of the Party, respectively, as well as about the efforts made by the Party and government to advance in the country's social and economic development, amid the difficult conditions imposed by the US blockade and the international economic crisis.
Also participating in the meeting was Jose Ramon Balaguer, member of the Secretariat and head of the International Relations Department of the Cuban Communist Party's Central Committee.
The delegation of the Spanish Communist Party has carried out a wide program of meetings and exchanges with other leaders of the Party, the government, the National Assembly of the People's Power (Parliament), the Young Communists League and social organizations, and has visited places of historic and social interest.
Taken from AIN