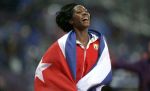 Cuban Yarisley Silva grew big in London 2012 by soaring over 4, 75m and obtaining the silver medal in the women's pole vault final, even ahead of Russian star Yelena Isinbayeva, the best ever in this specialty.
The Cuban athlete, fifth in the 2011 World Athletic Championships at Daegu, South Korea, and Pan American champion, gave it all again and watched her fellow pole vaulters step out of the big final, one after the other. Meanwhile, she was calmed and overcame all obstacles.
The vaulter,  born to the Cuban westernmost province of Pinar del Rio, was only beaten by USA Jennifer Suhr, one of the best worldwide who soared the same height but with less failed attempts.
Thus, Cuba's Yarisley Silva became the first pole vaulter from her country to win an Olympic medal.
Taken from Cubadebate/Translated by Escambray