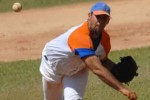 Sancti Spiritus hurler Ismel Jimenez obtained his 3rd victory in Cuba's  52 national season by beating Matanzas 2×0, in its own headquarters.
Trinidad's international player worked the whole game, allowing only 5 hits, striking out 8 and giving no walks.
The excellent performance of Ismel Jimenez permitted Roosters to gain their third subseries (all as visitors), and to remained in the second place of the general standings, one game away from leader Guantanamo.
The key batter for Sancti Spiritus in the three-game series vs Crocodiles was center fielder Yunieski Gourriel (11-6, 2 RBI).
Th final games of the 4th subseries ended with victories of Santiago de Cuba over leader Guantanamo (11×1), Cienfuegos-Ciego de Avila (3×1), La Isla- Camaguey (7×6),  Pinar del Rio- Granma (3×2), Holguin-Artemisa (7×3),  Las Tunas-Mayabeque (7×2), and Villa Clara-Industriales (7-1).
Roosters are to face on Friday, Saturday and Sunday Havana's Blue Lions with TV broadcast.