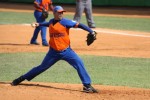 With victory 4×3 over la Isla de la Juventud, Sancti Spiritus pitcher Ismel Jimenez reaffirmed as the hurler with most wins in the current Cuban baseball national season, while setting a record of games started and triumphs for Sancti Spiritus province.
Twenty-five years old and member of the Cuban team to the Second World Baseball Classic, Ismel threw on Tuesday game during 8 innings allowing 5 hits and a single earned run.
Thus, Jimenez became the first hurler in 12 years to win 16 games, as in 2000, Santiago de Cuba Norge Luis Vera won 17 for his team. He also set a record for Sancti Spiritus, a central Cuban province, in games started (24 so far) and triumphs (16 so far), as the previous ones belonged to renowned Maels Rodriguez (23, 15).
The wins record for a Cuban season belongs to Havana's Jose Ibar who got 20 victories in 1998, an improbable stat for Ismel who will be able to start only two more games in the current season.
A year ago, Sancti Spiritus pitcher was leader in the most wins department along with Cienfuegos lefty Norberto Gonzalez.
After sweeping East's weakest team Camaguey, and losing the three-game series vs. la Isla de la Juventud, Sancti Spiritus Roosters hold on to the 4th position in the West, 4 ½ games ahead current champions of the Cuban baseball, Pinar del Rio.