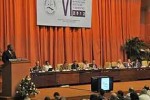 The Sixth International Justice and Law Meeting concludes in this capital on Friday after three long days of work on the latest tendencies of the jurisprudence in the world.
The meeting participants discussed different topics including the right and guarantee in making justice, criminal annulment, trial principles, and Constitution as the direct implemented law.
On Thursday, the official of the Cuban penitentiary system Luis Daniel Almanza made reference to the achievements reached in that field, including the possibility that the inmates of serving the sentence in penitentiaries close to their residences.
Almanza added that more than 50 percent of them are allocated in minimum security centers, joined work, and trained in different jobs.
Cuba has achieved coordination between its penitentiary policy and the fight against crime in the society, which allows to make the appropriate adaptation in a each historical moment, said Almanza.
The Caribbean country has a juridical system which is constantly improving and it is always in line with international regulations in that matter. (Taken from PL)