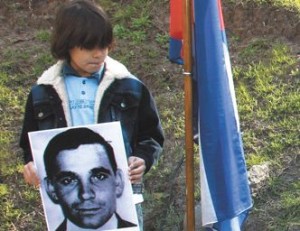 After 36 years of anxiety, Argentinean experts confirmed the finding of the remains of Cuban diplomat Crescencio Nicomedes Galañena Hernández, who was kidnapped on August 9th, 1976, in Buenos Aires, and later on murdered by terrorist groups sponsored by the Operacion Condor (Operation Condor).
By Victoria Ginzberg
According to Argentina's Página/12 newspaper, the body of the young diplomat, born in the Cuban municipality of Yaguajay, was found last June.
Last June 12th, a group of kids who were hunting guinea pigs and mice in an area in front of the San Fernando aerodrome, found a 200 litre capacity rotten metal barrel. It was broken. The kids saw bones in the barrel, so they called 911. Later on, the police found two other similar barrels with osseous remains inside. After analyzing the remains, it was established that one of the bodies belongs to Crescencio Nicomedes Galañena Hernández, a Cuban diplomat that had been missing since August, 1976.
The investigation was led by San Isidro's attorney Luis Angelini, who allowed the participation of the Argentinean Unit of Forensic Anthropology (EAAF, in Spanish). According to statements made by judicial sources to Pagina/12, the analysis carried out by this body -the members of which refused to talk-, indicates that there is a 99, 99 likelihood that the body belongs to the Cuban diplomat.
Galañena Hernández was abducted together with Jesús Cejas Arias on August 9th, 1976, in the Belgrano neighbourhood. They had just left the Cuban embassy where they worked.
The abduction and disappearance of Galañena Hernández and Cejas Arias,  led to the condemnation in Argentina of retired general Rodolfo Cabanillas, who was the head of the SIDE Division's "Tactic Operations 18", and repressors Raúl Guglielminetti, Eduardo Alfredo Ruffo and Honorio Carlos Martínez Ruiz.
(Translated by Escambray)