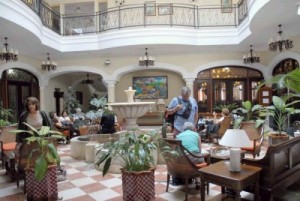 Tripadvisor website, considered the largest traveller community of the world, ranks Cuban Iberostar Grand Hotel Trinidad as the best among other 287 Cuban resorts.
So many opinions cannot all be wrong; even less if they come from the clients, those judges whose voice should be always heard. In the Tripadvisor website, considered the largest traveller community of the world, Cuban Iberostar Grand Hotel Trinidad has been placed in the top position among other 287 Cuban resorts.
According to Leonardo Miranda, in charge of the public relations affairs at the hotel, this first time rank, confirms the high professionalism of the hotel crew, which allows for a much personalised service.
"There is nothing more important for us than clients, right since the very moment of their arrival in the facility. That's why we are always attentive to their remarks", he added.
CRITERIA
Escambray searched for some of the criteria expressed by tourists on the Tripadvisor website, which definitely support the current rating of the hotel.
Last November, someone wrote: "We were guests at the facility when hurricane Sandy hit the island, so, we needed to make several phone calls (…), and the hotel staff did their best to help; they even made some of the telephone calls themselves. When were arrived in the hotel they told us they would be available for us for everything we needed, and they certainly were".
Another tourist wrote: "Spacious rooms, well furnished, and with spacious bathrooms, all of them extraordinarily clean. Nice bar with good cocktails. Impeccable service; very nice staff. The breakfast, one of Cuba's best, with wide offer".
Other client said that: "We arrived there after a long tourist journey; and we found the perfect room, and above all, we could connect to the Internet. Restaurant service very good, and phenomenal food. My congratulations to the cook (…). I would definitely visit the place again, and of course, I will recommend it".
Likewise, Iberostar Grand Hotel Trinidad was ranked as Cuba's best Iberostar hotel, in the opinion polls taken by the GesHotels® company, foreign institution present in more than 1 000 touristic facilities in the world.
LOCATION
Found a few meters away from Plaza Carrillo (Carrillo Square), the Iberostar Grand Hotel Trinidad is the only five-star hotel in the central Cuban province of Sancti Spiritus.
Great Britain, France and Germany are the main source markets for this 40-room facility, which operates under the Adults Only regime.
Prior to the present high season which will run until next April 30th, the hotel was repainted, and some of its wood structures restored, said Yosnel Quintero Ichazo, head of the commercial department in the place. He also mentioned similar actions taken on the technological systems and the gastronomic equipment.
With a hundred hotels distributed in 15 countries, the Iberostar Group owns over 36 000 hotel rooms, and is one of the major Spanish-labelled tourism consortiums.