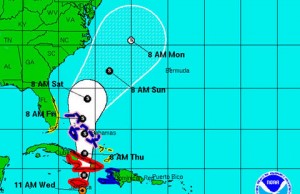 At six o'clock on Thursday morning Hurricane Sandy went out to the sea, with category 2 and left the Cuban territory near Cabo Lucrecia, in the eastern province of Holguin.
The maximum sustained winds recorded at Cabo Lucrecia station were of 165 km / h, with some fluctuations on its way through eastern Cuban.
According to the Cuban Institute of Meteorology, the pressure has been climbing at 960 hPa and the phenomenon has lost structure, but it was pretty well shaped while "touring" the island.
Sandy continues to move at 30 km / h away from Cuba and it is expected to cross the Bahamas as hurricane to weaken further and become a tropical phenomenon.
Authorities warn that the entire northeast coast up to central Cuba may be flooded, so they keep on calling to maintain activated civil defense measures.
Taken from Cubasi/Translated by Escambray