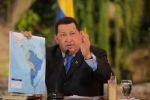 Venezuelan President Hugo Chavez said he is in good health and denied rumors that he had medical checkups during his visit to Brazil, aimed at making Caracas's entry into the South Common Market (MERCOSUR) official.
Upon his arrival at the Simon Bolivar International Airport from Brasilia, Chavez told reporters that some people use every opportunity to send messages against him.  He said: "Some people wish I were dead, but I hope they live a long life to continue watching how the Bolivarian Revolution strengthens battle after battle, victory after victory."
President Chavez also referred to the formalization of Venezuela's entry into MERCOSUR and said that is the right way to turn the country into a regional power.
The president stressed that the results of Venezuela's incorporation into the South Common Market will pay off in the medium and long term.
(Taken from RHC)