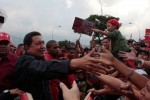 Venezuelan President Hugo Chavez has taken a tour of Catia, a district in the populous parish of Sucre, in Caracas, where he was acclaimed by tens of thousands of followers.
The local media reports that a crowd received the Venezuelan leader and accompanied him on his visit through the town, as part of his re-election campaign in the upcoming October elections.
Speaking to journalists before the tour, Chavez said the Venezuelan people won't allow anyone to be disrespectful to them and will not accept the neo-liberal packages or measures that right-wing sectors want to implement in the country.
On Monday, Venezuelan opposition candidate Joel Acosta Chirinos abandoned his presidential aspirations and announced his support for the re-election of President Chavez in the October 7th elections.
Acosta announced his decision during an interview to private News 24 radio station, saying that the Venezuelan leader and his government project represent a real change for the South American country. The former opposition candidate also made a contrast with the government program of right-wing candidate Henrique Capriles, which he described as regression in the vertical relationship of power and representative democracy.
In other news from the presidential race in Venezuela, on Tuesday, the National Assembly is debating the creation of a parliamentary commission to investigate charges of corruption against Deputy Juan Carlos Caldera, a close collaborator of the opposition candidate Henrique Capriles. (Taken from RHC)