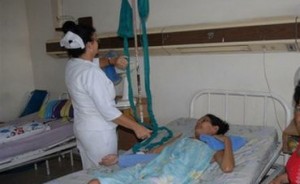 Cancer is the first cause of death in this Cuban central territory.
Actions to reduce the incidence of malignant tumors and improve the quality of life of cancer patients are reinforced in the primary and secondary care of the health system in the central Cuban province of Sancti Spiritus, where cancer is the first cause of death.
The purpose is to reduce by 15 percent the cancer disease mortality in the territory in 2015; it is of the essence the participation of multiple factors in the work of prevention, early detection, treatment and rehabilitation, said Dr. Marisel Hernandez Diaz.
Promotion strategies and health education currently undertaken focus on cancers of  lung, breast, prostate, colorectal and cervical, the latter with increasing frequency in young women, said the first-degree specialist in General Medicine .
In Sancti Spiritus, where about 1600 cases are diagnosed annually, and around 900 die, oncological diseases have spread to pediatric ages and today are the leading cause of death in children aged five to 10.
To reduce the number of cancer deaths is necessary to achieve healthier lifestyles, stressed Dr. Jorge Alvarez Blanco, head of the Provincial Oncology Group, citing among the main risk factors for the development of the disease, inactivity, inadequate diets, unprotected sex and smoking.
The progressive aging of Sancti Spiritus population, third longest in Cuba, also appears as another reason related to the upward trend of the real risk of dying from cancer.
"If studies show that one out of three people older than 60 years can get cancer, then we must focus in the management, control and prevention of the condition," said the doctor.
Cancer is a major health problem worldwide and by 2030 more than 1.6 million people are thought to die due to demographic changes and an increased exposure to risk factors.
By Arelys García Acosta/Translated by Escambray