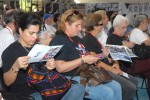 Participants at the 8th International Colloquium for the Freedom of the Cuban Five and against Terrorism called for the intensification of actions in support of the cause of the five anti-terrorist fighters held in the United States.
During plenary sessions at the forum, underway in eastern Holguin city, delegates explained about ongoing supportive actions by friends of Cuba in different parts of the world.
Zoe Palyet, member of the France-Cuba Solidarity Association put as an example the actions by Kakine Roussie, an 80-year-old retired person, who sends Barack Obama a letter every month demanding the release of the Cuban Five.
Rosa Bernal, sister of visual artist Paco Bernal, handed over a collection of illustrated books inspired in stories about the five heroes.
Amaury Torno, Cuban Friendship Institute delegate in Holguin, thanked the supportive gestures of friends of Cuba towards the five anti-terrorist Cubans.
The delegates also expressed their support of Palestine and demanded the end of the injustice being committed against the Palestinian people.