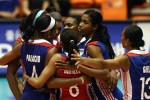 Cuba took revenge on Korea after being defeated in the past pre-olympic tourney and beat the Asian team 3-2 (23-25, 27-25, 25-18, 23-25, 15-11) in a heart-breaking match, as reported by the FIVB (International Volleyball Federation) website.
The confrontation by Pool C teams Cuba and Korea resulted in a very fought 5 sets in which top scorers were Cuban middle blocker Rosanna Giel and Korean Hwang Youn-Joo.
Both teams came from behind in the match, as Cuba began losing the opening set, and then took the next two, while Korea never gave up and took the 4th to finally gave way to the decisive tie break.
In the deciding set Cuba's superior concentration, high blocking and striking power gave them the edge while Korea started to make too many unforced errors and it was Cuba who clinched it, 15-11, reported the piece of news gathered from the internet official site.