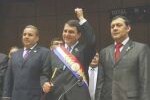 Federico Franco took office as President of Paraguay amid growing rejection this Saturday of the country's regional allies and political sectors, who denounce as ilegal the impeachment of Fernando Lugo accused of poor performance in the Congress.
National political sectors and South American denounced on Friday actions against President Lugo as a coup gestated on the basis of legal formalities.
Before Congress, author of the maneuver, upon taking office Franco said it was the largest commitment and had only been possible with the help and cooperation of each of the members of Congress.
Franco, Paraguayan Vice President until now, 49 years and a doctor, said he came to express his unfettered will to respect democratic institutions.
The Liberal Party member took the oath one day after the House impeachment request against Lugo.
The case against Lugo took effect six days after the death of 17 people in a gun battle between police and farmers during the attempted eviction of a forest reserve in Curuguaty.
Several South American countries described the process as rigged and some governments´ spokesmen have already spoke out against it.
The government of Ecuador will not recognize another government in Paraguay than that of Fernando Lugo, said in his twitter account Fernando Alvarado, spokesman for the Ecuadorian President Rafael Correa. In similar terms spoke the authorities of Argentina and Venezuela.  (Taken from PL)