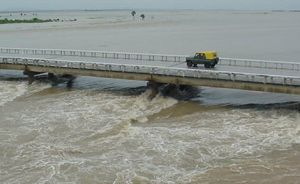 The evacuation of the people living downstream the Zaza dam, in the central Cuban territory of Sancti Spiritus, was started at midday this Friday. The Provincial Defence Council ordered the evacuation of the nearly 6 600 residents from Tunas de Zaza, El Médano, Siete de Noviembre and Mapos townships.
The prolonged heavy rain situation was analyzed here by local top authorities together with Major General Ramon Pardo Guerra, head of the National Civil Defence in Cuba.
After two o'clock this afternoon, Cuba's largest water reservoir, the Zaza dam, had already accumulated 995, 000 000m³. Thus, it was decided to open the floodgates to release some of the water.
Whenever this measure is adopted, the communities found downstream the dam are in risk of getting flooded, so, it is a must to evacuate the people in order to preserve their lives.