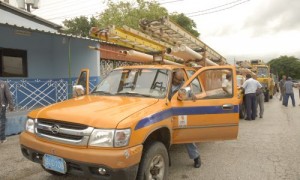 Electrical workers from the central Cuban province of Sancti Spiritus left this Thursday afternoon for Santiago de Cuba, in order to work on the recovery of the electric service in this territory, one of the most damaged by hurricane Sandy.
Jorge Armando Cepero Hernández, general director of the electric company in Sancti Spiritus, and head of the support group, told Escambray that workers have been divided into five brigades with all the specialities needed to do whatever necessary.
Local Party and governmental authorities met with the members of the group, most of whom have experience on the job they will do in Santiago de Cuba, since they have supported other Cuban territories in similar situations.
They said to be ready to work in difficult conditions, since the only important thing is to bring back electricity to those people who are now in need of help.