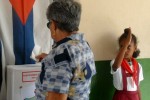 In Sancti Spiritus, 646 grassroots delegates were elected this Sunday. A second round will be necessary in fifty local constituencies.
Some 346 843 residents of the central Cuban province of Sancti Spiritus, which represents 92,21 of local electors, exercised their right to vote this Sunday to elect the delegates to the Municipal Assemblies of the People's Power.
According to preliminary information from the Provincial Electoral Commission (CEP, in Spanish), 646 grassroots delegates were elected in the first round. 30,8% of them are women, 12,8% are aged under 35, and 43,5% were re-elected.
CEP president Orelbe Jacomino Ramos highlighted the discipline of the voter despite the rain reported in several territories. He also praised the effort of the nearly 14 000 locals who worked to defend the transparency of the elections.
Jacomino also said that information flew quickly, which greatly contributed on the final calculations.
Fifty local constituencies have been scheduled for a second round next October 28th since none of the candidates got over a half of the valid votes.