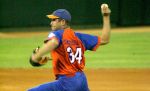 Sancti Spiritus Roosters leads the standing thanks to their batting and pitching. Noelvis Hernandez is one of the relevant figures of the team in the present championship.
Batting Leaders (after 21 games)
Average: Giorvis Duvergel (GTM) .421 (57-24); Runs scored: Yulieski Gourriel (SSP) 19; Hits: Dayron Varona (CMG), Maikel Caceres (HOL) and Frederich Cepeda (SSP) 31; Doubles: Ramon Tamayo (GRA) and Andy Ibañez (IJV) 10; Triples: Lazaro Rodriguez (CFG) 4; Homeruns: Ernesto Molinet (MAY) 6; Slugging: Ramon Lunar (VCL) .654; Stolen Bases: Dayan Garcia (ART), Yosvani Garcia (CMG), Jose R. Velazquez (IJV) and Yoelvis Leyva (CFG) 5; RBIs: Eriel Sanchez (SSP) 21; Walks: Alfredo Despaigne (GRA) 21.
Pitching Leaders
Wins: Wilber Perez (IJV) and Ismel Jimenez (SSP) 5; SV: Duniel Ibarra (CFG) 9; GS: nine hurlers with 6; CG: Alain Dela (SCU) and Ismel Jimenez (SSP) 2; Relieved: Felix Fuentes (MTZ) 13; Shutouts: seven hurlers with 1; ERA: Noelvis Hernandez (SSP) 0.69 (2 runs in 26 innings); IP: Vladimir Garcia (CAV) 46.2; SO: Ismel Jiménez (SSP) 35.
Defense Leaders
Putouts: Alexander Malleta (IND) 242; Assists: Erisbel Arruebarruena (CFG) 99; Total Chances: Alexander Malleta (IND) 254; Caught stolen: Luis Abel Castro (IJV) 13.
Negative Leaders
SO: Lazaro Hernández (ART) and Yaisel Medero (CMG) 23; LG: Israel Sanchez (ART), Alberto Soto (GRA), Carlos O. Gonzalez (HOL), Darien Nuñez (LTU) 4; BB: Joan Lopez (IJV) 26; Defense errors: Dainer Moreira (GTM) 9; Passed ball: Rudelis Garcia (CAV) 4.
Team Stats
Batting: 1. Sancti Spíritus (.299), 2. Holguin (.282), 3. Isla de la Juventud (.274); Pitching: 1. Ciego de Avila (2.31), 2. Matanzas (2.42), 3. Sancti Spiritus (2.43); Defense: 1. Isla de la Juventud 988, 2. Camagüey 982 , 3. Guantanamo 981.
2012's Last Subseries
PR vs. Sancti Spiritus, Isla de la Juventud vs. Industriales, Matanzas vs. Mayabeque, Cienfuegos vs Artemisa, Villa Clara vs. Guantanamo, Ciego de Avile vs. Santiago de Cuba, Granma vs. Camaguey, and Holguin vs. Las Tunas, in all cases the first teams acting as homeclub.
TAKING FROM JUVENTUD REBELDE/TRANSLATED BY ESCAMBRAY