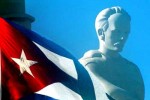 Consistent with the decision by the Cuban Council of State, the Electoral Law and the Cuban Constitution, all 168 municipal assemblies of People's Power will be set up throughout the island on Sunday for a two-and-a-half-year term.
All 14 thousand 537 delegates to take office, who were elected by the people in the municipal elections held from October 21 to November 18, will meet on Sunday in the places and at the time established by outgoing assemblies, under the direction of the presidents of municipal electoral commissions.
In these meetings, whose proceedings are established in the current legislation, the presidents of the municipal electoral commissions will declare the assemblies as established, which will be followed by the election of each assembly president and vice-president by the secret vote of its members.
The establishment of the assemblies will bring to an end the first stage of the 2012-2013 general elections, to kick off preparation of the second stage, which includes the election of delegates to Provincial Assemblies and deputies to the National Parliament for a five-year term.