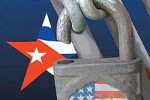 Cuban residents in Russia, Ukraine and Belarus exchanged experiences in this capital on Sunday to intensify and support the international campaign for the return of the five anti-terrorist Cuban fighters unfairly held in US prisons to their homeland.
Coordinator for the Russian Free the Five Committee, Lena Loshkina, said that Russian activists will soon have two hot-air balloons that will carry banners about these Cuban heroes.
Gerardo Hernandez, Ramon Labanino, Fernando Gonzalez, Antonio Guerrero and Rene Gonzalez were subject to a trial plagued with irregularities in Miami, Florida, after preventing with their work terrorist actions against Cuba and the United States.
Loshkina said that the struggle for the cause of The Cuban Five is also linked to a country's right to self-determination, and the anti-colonial, anti-imperialist Free The Five movement gives its members much more than what they contribute.
Meanwhile, Manuel Lopez, coordinator of the Free the Five Committee in Ukrania, and a classmate of Antonio Guerrero's in the Aviation Academy of Kiev, said he started the struggle for The Cuban Five since 1998, just a week after the arrest of the Cuban heroes.
Lopez denounced the links of the Bush family with the extreme right of Cuban origin and their funding of terrorist actions, even in US territory, like the recent bomb attack in Miami against a travel office that operates charter flights to Cuba.
He said that at least 28 Free the Five committees have been created by children and relatives treated in Cuba in the wake of the Chernobil nuclear disaster.
"We have made at least 20 performances about the poems written by Antonio in schools and social organizations, we have published articles about The Cuban Five in the press and used television to disseminate the truth of their case," he said.
A meeting of Cuban residents in Russia, Ukraine and Belarus, held in Moscow recently, approved a final declaration demanding the return home of the Cuban Five.
Taken from Prensa Latina