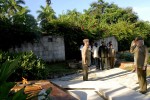 Commander of the Revolution Ramiro Valdes, stressed the validity of the ideology of Ernesto Che Guevara in the current struggle of the peoples of Latin America.In the act for the 45th anniversary of the assassination of the Heroic Guerrilla, the leader referred to the pride Che would feel for the new electoral victory of Venezuelan President Hugo Chavez.
The ceremony was attended also by Ricardo Alarcon, president of the National Assembly of People's Power, and Miguel Diaz-Canel, vice president of the Council of Ministers, all members of the Political Bureau of the Communist Party of Cuba (PCC)
During the ceremony at the Ernesto Guevara Sculptural Ensemble, of this city, where the remains of the Argentine-Cuban doctor and some of his comrades in Bolivia, he evoked the path of Che, from the meeting with Fidel in Mexico, to his guerrilla struggles in other countries.
Valdes highlighted the international projection of the hero, who set a paradigm in the struggles for the world's dispossessed.
He stated that Che is often seen only as a man of action, and that is needed to praise as well his ideas in the development of socialism, when he advocated for proper accounting, raising productivity and the use of moral and material incentives, mobilizing of workers, among other ideas.
The tribute to Che began with a wreath at the statue of the hero and the performance by Vionaika Martinez along the group Danza del Alma of the song "Por los Andes del Orbe", by Tania Castellanos.
The ceremony was attended by students, workers and members of the Ciro Redondo Eight Column, which Che led the invasion to the West.
During the ceremony people enjoyed the performances of troubadour Gerardo Alfonso, with his song "Son los Sueños Todavía"; the Creole Quintet, along with a big band, with the melody Hasta Siempre Comandante by Carlos Puebla.