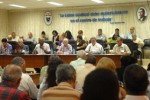 The National Council of the over-three-million-member Confederation of Cuban Workers (CTC) called its 20th Congress for 2013 during a plenary session that focused on the update of the island's economic model.
Delegates to the session exchanged views on issues like work efficiency, saving of resources, payment plans and the role of private workers, which have increased to some 400,000 with the economic remodeling process.
The plenary meeting was presided over by Cuban Vice President Jose Ramon Machado Ventura and by CTC General Secretary Salvador Valdes.