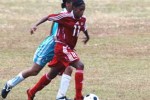 The Cuban national women's soccer team drew 1-1 against Trinidad and Tobago, at the closing of the CONCACAF Under 20 Women's Championship, at the Pedro Marrero Stadium in the capital.
The Trinidadians opened the scoring at 19 minutes of play, thanks to Shenysa Camejo, in a first half marked by alternating game control in which the local team could not match their opponent's goal, Cuban Agency AIN reported.
The team Cuba, however, accomplished a draw at the 49th minute, when wing-forward Rachel Pelaez, who was the most outstanding player of the young women headed by coach Luis Elejalde, scored her 4th goal in the competition.
According to the Wednesday result, the Cubans ranked first in the qualifying group F, because Puerto Rico was defeated 0-1 by Guyana, and thus already eliminated from the competition.
The Cuban women totalled five points, thanks to a win and two draws, seven goals scored in favor and three against.
The group's leadership led the team Cuba to participate in the 2012 CONCACAF World Cup qualifying tournament, which will be held in Panama, in March, which will also be attended by teams from Canada, Mexico, the United States, Haiti, Jamaica, Guatemala, and the host country.
The regional World Cup qualifying tournament will provide just three slots for the Women's World Cup U-20, which will take place in Uzbekistan, from August 18 to September 9.  (Taken from PL).