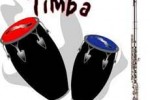 Prominent Cuban musicians and bands such as "Los Van Van ", NG La Banda and Manolito Simonet will participate in the 1st Cuban Timba Music Festival in New York on June 16.
The Copacabana nightclub will host the event that will also be attended by the bands Bamboleo and Pupi y los que Son Son, and singers Tania Pantoja and Pedrito Calvo.
Musician Lazaro Valdes will lead the delegation named Team Cuba.
We will show in New York the strength of our timba music, which is a world class musical movement, Valdes told Prensa Latina.
The Cuban timba music marked its beginning in November 1989 by the composer, arranger and conductor José Luis Cortes and his band NG la banda, which imposed a new concept, style and musical sound.  (Taken from PL)