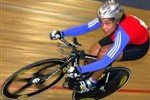 Cuban Cyclist Lisandra Guerra improved her world ranking from the 14th to the 5th at the Olympics Cycling Speed, rating 240 points.The International Cycling Union 44-athlete list, that relied on the latest turn out at London 2012, said Lisandra improved her rating thanks to the 180 points of the Summer Games, and commands her counterparts of Latin America and the Caribbean.
In London, Anna Meares (of Australia, who scored 640pts), defeating in the finals British Victoria Pendlenton (320 pts), while the Bronze went to Shuan Guo of China (240).
Meares caps the ICU list, with Kristina Vogel (Germany -320pts) as second, Pendlenton is third and Guo comes fourth. Cuban Guerra ranks fifth.
The other Latin Americans on the list are Monique Sullivan (Canada-17th with 80pts); Colombian Juliana Gaviria (28/30) and Venezuelan Daniela Larreal (29/30).
In Keirin, Gerra was not that lucky and dropped from the 15th to the 18th place with her 13th standing at the Olympics rating just 30 points.
Also, Cuban Marlies Mejias kept her 10th place ending 8th with 140 units in her ranking. (Taken from PL)