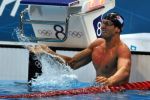 Cuba's swimmer Hanser Garcia made history on Tuesday in the 2012 Olympic Games held in London by entering the great final of men's 100m freestyle with national record of 48, 04 seconds. Thus, his country will be represented again in the last stage after 16 years of absence.
It was a vibrant exam which confirmed Hanser as one of the best freestyle swimmers of the moment, and perhaps, the most rapid man from the 60m on.
When reaching the first 50m, Cuba's surprising athlete was 6th with 23, 40 seconds. However, his intense rhythm allowed him to gain distance while leaving behind importante figures such as Dutch Sebastian Verchurer (48,13), Canadian Brent Hayden (48,21) and FrenchYannick Agnel (48,23), the latter a sensation in the current games.
"I felt much better at night than in the morning (48,97), and as I had line 8, I did not look at my side", said the best freestyle swimmer of all times in Cuba.
"Noone counted on me, I was cornered, but I did my job and reached the finals. I believe I accomplished my main goal", explained Hanser.
When asked about his possibilities in the final competition he said he would try to go for a medal. He stamped the 3rd best time in the last stage, thus, he will swim in line 3, between Brazilian star Cesar Cielo (48, 17) and Australian James Magnussen (47, 63).
Taken from Cubasi/Translated by Escambray