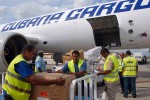 Citizens in Santiago de Cuba welcomed the government decision to discount by 50 percent the price of construction materials for families whose homes totally or partially collapsed during the recent passage on eastern Cuba of hurricane Sandy.
Following the announcement of the decision, the people in Santiago commented on its benefits particularly in this eastern province, which resulted severely affected by the storm, with over 40 thousand homes damaged, according to preliminary reports.
(…)
The Cuban government announced a 50 percent price discount of construction materials to be sold to families whose homes were partially or totally affected by hurricane Sandy.
The announcement was issued after considering the huge damage inflicted by the storm in the eastern provinces of Santiago de Cuba, Holguin and Guantanamo, which derived in large material losses undergone by the population, reads an article on Granma newspaper on Thursday.
The initiative means that families whose home were affected will pay only half the price of construction materials, and those persons that cannot afford the items can apply for total or partial subsidies, which will  be paid by the state budget.
The affected families can also apply for credits at lower interest rates, which will be paid back in installments, and in the case of total home collapse, the state budget will pay for bank interests in order to lower the expenses of the families, the announcement explained.