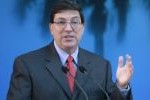 Cuba's Foreign Minister Bruno Rodriguez Parrilla, stressed today the commitment of his government and the Non-Aligned Movement (NAM) to maintain global peace, disarmament, and self-determination of nations.
Rodriguez said these statements to reporters at the "Iman Khomeini" International Airport in Tehran, where he arrived on Tuesday, to participate in the ministerial segment of the NAM, which will be held today and tomorrow.
The Cuban diplomat said Iran assumes a great task with the holding of a conference of such magnitude, and described the summit as an event of high world sensitivity.
During discussions, the foreign ministers will review many international current issues, as of decisions taken by the State members at the NAM's conference held in Havana, Cuba, in 2006, Rodriguez said.
Rodriguez is the highest-ranking authority of his country attending this meeting in Tehran. Cuban Deputy Foreign Minister Abelardo Moreno chaired the segment of experts and officials, with emphasis on the NAM unity and the need to revitalize its role.
Moreno reiterated Cuba's traditional positions, one of the 25 founding nations of the Movement that emerged in Belgrade in 1961. He stressed that to close ranks in defense of the rights of developing countries is essential.
Moreno argued preparing the documents the foreign ministers will discuss and approve, take into consideration the complex and current international situation that negatively impacts the peoples' quality of life, and West hegemony.  (Taken from PL)