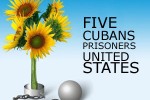 Relatives of the Five met with renowned Cuban intellectuals.Relatives of the five Cuban anti-terrorist fighters held in the United States since 1998 met this Monday, December 10, with renowned Cuban intellectuals at the headquarters of the National Artists and Writers Association (UNEAC).
Cuban Parliament president Ricardo Alarcon gave an update on the legal case of Gerardo Hernandez, Fernando Gonzalez, Antonio Guerrero, Rene Gonzalez and Ramon Labañino, internationally known as the Cuban Five, according to the Cuban Foreign Ministry's website.
Cuban personalities, such as Miguel Barnet, Silvio Rodríguez, Alicia Alonso, Roberto Fabelo, Nelson Domínguez and Vicente Feliú exchanged with relatives of the Cuban Five Heroes and also conveyed their solidarity with the cause.
The event, which was broadcast live on the Internet Justin TV http://www.justin.tv/cubaminrexen, served as opportunity to receive updated information on the situation endured by the five Cuban anti-terrorist fighters.