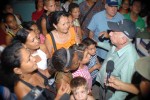 Cuban First Vice-President Jose Ramon Machado Ventura visited the municipalities of Cueto and Mayari in Holguin province, where he called for giving priority to restoring services to the population in the areas affected by Hurricane Sandy.
He urged to solve the problems of water supply, food distribution and power outages, as soon as possible, because those are very sensitive and much-needed issues to the population.
Machado Ventura said they will assess progressively the rest of the damages, on the basis of a rigorous and objective analysis.
He also told the preliminary damage assessment showed substantial losses to the economy, with major impacts on the province of Santiago de Cuba, including its capital and municipalities of Palma Soriano and San Luis, among others.
Machado expressed that the Cuban government will trace the lines of work to move as fast as possible in terms of recovery, but this will require the understanding and cooperation of all the people to undertake major actions.
He asked about the magnitude of the damages in the territories of Cueto and Mayari, where he urged to make the most of the ready-to-consume fruits now.
The Cuban leader made a call to all farmers to work harder, because the country is going through a very critical situation from hurricane damage in the east, to which we add the losses caused by heavy rains in the center of the island
At the end of his visit to a hospital in Mayari, Machado Ventura, accompanied by Jorge Cuevas, president of the Provincial Defense Council, spoke with the residents around the facility, who reiterated their confidence that the municipality will succeed in the recovery tasks.