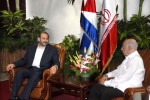 Cuban First Vice-President José Ramón Machado Ventura met with his visiting counterpart from the Islamic Republic of Iran, Ali Saeidlo.
During the meeting, held Monday evening, the two dignitaries reviewed the current state of bilateral relationships, which they both defined as excellent and also reaffirmed the two countries' determination to continue strengthening their cooperation ties.
Dr. Saeidlo also took the opportunity to convey an official invitation to Cuban President Raul Castro to attend the up-coming Summit of Non-Aligned Movement (NAM), schedule for August 30 and 31 in Teheran.
During the official talks, the Iranian vice president was accompanied by his country's ambassador to Havana, Ali Chegeny. Also present was Cuban Foreign Minister, Bruno Rodríguez. (Taken from RHC)