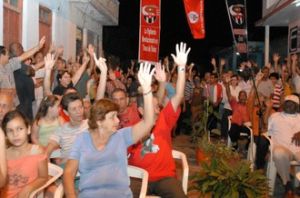 Over 2100 meetings will be held in Sancti Spiritus as part of the nomination of candidates for delegates to the Municipal Assemblies of the People's Power which began last Monday around the Cuban archipelago.
Simultaneously, the eight municipalities had the first meetings of this transcendental process for the upcoming October's elections, in which approximately 361,000 people of the Cuban central province with right to vote will be immersed.
Orelve Jacomino Ramos, president of the Provincial Electoral Commission, told Escambray that 2141 nomination areas have been enabled in the 696 constituencies in Sancti Spiritus, where, as required by the Electoral Act, citizens may propose for each area whom they considered ideal to represent them, always on the basis of their virtues, merits and capability, using one of the most democratic privileges that Cubans have: the power to elect and be elected regardless of age, race, creed or sex.
Among the proposed, the nominee will be the one who gets the most votes. Neither the party nor any other organization gets involved in the appointment of future aspiring delegates of the People's Power, as it depends exclusively of the people living in each neighborhood. With the nominees in the different areas, the candidacy of the constituency is determined, which should have between two and eight candidates, as established by the Cuban Electoral Act.
The official explained that in the first seven days some 290 meetings must be held across the province, while during the second and third weeks almost all of these meetings to select the future local government representatives are to take place.
The nomination of candidates for delegates to the Municipal Assemblies of the People's Power will run until September 29, and once selected, their photos and biographies will be displayed in public places for the information of all who exercise the vote in upcoming October elections.