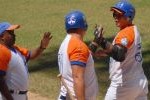 In order to consolidate their 4th position in the West, and thus, the ticket to play off, Sancti Spiritus Roosters will face Camaguey as visitors during Tuesday, Wednesday and Thursday in the Candido Gonzalez Stadium.
Sancti Spiritus holds a 41-39 record and is placed 4th in the West region, 6 ½ games away from leader Matanzas Crocodiles, 4 from third placed Cienfuegos Elephants and has a 3 1/2 lead over current champions of the Cuban baseball, Pinar del Rio Tobacco Growers.
Camaguey is considered a weak team in the so-called tough East zone. It is positioned last in the region with 39-45 record, eleven games away from leader Ciego de Avila Tigers. Their only fight: not to remain in the bottom.
Sancti Spiritus main concern is the great number of important players who are injured or recovering from physical affections, the most serious case being that of international Frederich Cepeda, third batter and regular left-fielder of the team. However, substitutes have played an amazing role in the squad and have helped to hold on to the 4th place.
Sancti Spiritus offensive and pitching are better than their rivals': 284x 282 and 4, 09 x 4, 34. However, the easterners defence is best with a 976 ave for Roosters' 969.