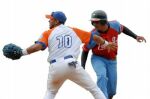 Sancti Spiritus baseball team took revenge on Saturday's defeat, and beat current champion, Ciego de Avila Tigers, 8×5 in the continuation of the 52 national series.
Roosters came from behind in a game started by their ace Ismel Jimenez, who "jumped" early from the box in only 3 innings after allowing 3 runs. Yoen Socarras played as the immediate rescuer but he permitted two more runs, so manager Aragon gave the ball to Yasniel Sosa.
Losing the game in the 7th, Roosters managed to tie and take an advantage they never got to lose. The most important batters for Sancti Spiritus were Frederich Cepeda (3-1, triple, 3RBI, 1R), Eriel Sanchez (3-2, 1RBI, 1R), and Yulieski Gourriel (4-2, 1RBI, 1R), who were known once as the "Cuba's baseball terror trio".
Tigers' best men were catcher Rudelis Garcia (3-2, 1R) and Jose Ramon Alfonso (5-2, 2RBI).
The winner of the subseries Sancti Spiritus-Ciego de Avila is to be defined Monday night when both squads meet in the final encounter.
So far, the negative aspect of the beginning of the tourney for Roosters has been the defense, as they had 14 errors in only 5 games for a 936 ave. Shortstop Orlando Acebey (5), second baseman Lourdes Gourriel (3) and third basemen Yulieski Gourriel (3) present the worst numbers, while each of the outfielders have 1.