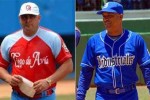 If May's rains allow it, Cuban baseball big party should continue on Tuesday night with the second encounter between Ciego de Avila  Tigers and Industriales Blue Lions, in a subseries favoring the former 1×0.
Tigers' manager, Roger Machado, confirmed right-handed Osmar Carrero as his starter while he added he's in no hurry to bring Yander Guevara to box. "He might be called to relieve if needed, but we have advantage and we don't have to force things", said Machado.
On the other hand, Industriales' pitching coach explained that the board is yet to decide who will open for Blue Lions, as both, second and third starter, have good result vs. Ciego de Avila. Nevertheless, lefty Ian Rendon seems to be the best choice over recently ill Frank Montieth.
In an unforgettable first game, Ciego de Avila obtained the victory in the seven-game final playoff of the 51st Cuban baseball national season vs. multi-champ Industriales, with a 3-2 score, in a jam-packed Latinoamericano Stadium.