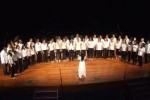 Some 35 directors from U.S. choral groups meet with Cuban peers at a symposium as of Monday in this capital to continue a cultural exchange began in 2011.
Sponsored by the National Center of Concert Music and the American Choral Directors Association, the meeting will begin with a concert at the Oratory of St. Philip Neri, by the Cuban National Choir and the Cardinal Singer Choir.
Madelaine Masses, assistant director of the National Center of Concert Music, said the event will contribute to break from culture the silence and distance between both countries.
Cuban groups such as Chamber Choir, Exaudi, Vocal Leo and Sine Nomine Chamber Music Group will share stage with U.S. colleagues until Wednesday.
The visitors will stage their country's presentations in the repertoire of Cuban choirs, and offer workshops to students from the Higher Art Institute and the National Music School.
Many Cuban choral directors attended in February and April regional lectures by the American Choral Directors Association in New York, San Francisco, Chicago and Seattle.
The island has lately received U.S. musicians, choirs, and university dance and theater groups such as St. Paul and Yale College Choirs, and the New Amsterdam Singers in New York.
Taken from Prensa Latina