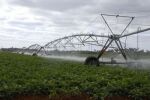 The National Hydraulic Resources Institute of Cuba (INRH) established in 2012 the consumption of nine billion cubic meters of water, nearly half of them in agricultural plantations, official sources said on Thursday.
Distribution and use of water in Cuba correspond to a largely agricultural country, told Granma newspaper Yosmary Gil, director of INRH Hydraulic Works.
The figure for this year is higher than the actual amount consumed in 2010, said Gil, who believes that the increases are due to more allocations in the sugar cane plantations and rice, which will consume 25 percent of the amount allocated to the agriculture sector.
According to Gil, for this harvest there is no guaranteed of 66 million cubic meters yet, which could be smaller if efficiency of productive activity increases and water consumption per hectare is deminish.
The provinces with these deficits are Artemisa, and Ciego de Avila and Camagüey.
The residential sector should receive 1 730 million cubic meters, somewhat lower than planned in the above schedule due to lack of rainfall, especially in the West.
Achieving wise use of water in Cuba should help mitigate the effects of the shortage, determined by the increasingly frequent occurrence of extreme weather events, specially prolonged by droughts.