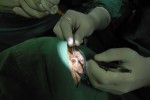 The Third Scientific Forum on Ophthalmology will be held in the central Cuban territory of Sancti Spiritus, from this Wednesday through Friday. The Camilo Cienfuegos General Hospital is the venue of the event.
The over thirty papers to be presented in the forum, will deal with the treatment of different eye illnesses, and with interesting teaching and researchissues.
Almost five years ago, an ophthalmology centre was opened in the local Camilo Cienfuegos General Hospital, where different eye surgery can be performed.
According to the Head of the Provincial Ophthalmology Group Dr. Melba Ruiz, some 17, 000 eye surgeries have been so far carried out in Sancti Spiritus, including 20 cornea transplants.
Source: AIN
Translated by Escambray