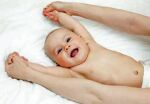 Cuba registered an infant mortality rate of 4.9 per 1000 live births in 2011, holding alongside Canada the lowest rate in the Americas. An article published by Granma today also appointed the eastern Cuban province of Las Tunas with the lowest mortality rate of the island, with 3.5 per 1000 live births.
By RHC
Other seven territories also fell below the 4.9 national mark.
Cuba has recorded very low mortality rates for the last 4 years, mostly due to its quality universal healthcare system, and specialized medical assistance and education for pregnant women.