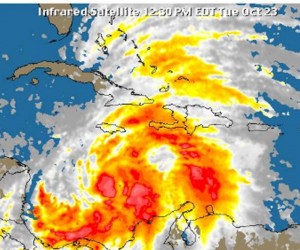 Cuba started this Tuesday to get ready in view of the threat post by tropical storm "Sandy", which is expected to hit several eastern provinces.
In its latest advisory on Wednesday at 6 a.m. the Cuban Meteorology Institute alerts that Tropical Storm Sandy is gaining intensity and could reached Cuba as a Hurricane category 1 in evening hours.
The forecast center with the Meteorology Institute warns the population in eastern Cuba about the strong and intense rains and strong winds that could affect half of the eastern part of the island.
With maximum and sustained 110-kilometer-per-hour winds and higher gusts, Sandy was located at 155 kilometers south of Kingston, Jamaica and at 410 kilometers Southwest of Santiago de Cuba.
The storm is moving northwards at 22 kilometers per hour and it is expected to gain in organization and intensity and turn into a hurricane before reaching Jamaica on Wednesday morning. Sandy could make landfall somewhere between the eastern Cuban provinces of Granma and Guantanamo tonight, said the Institute.
The forecast center also alert of strong and intense rains from central Sancti Spiritus province all the way east up to Guantanamo. Strong tropical storm and hurricane winds will be produced along with surge on the southern Cuban coasts.
As a consequence of recent rains, Cuban soils are saturated, which poses a threat to be followed by pertinent authorities.