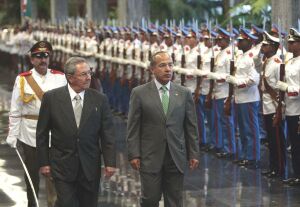 Cuban President Raul Castro officially welcomed visiting Mexican Head of State Felipe Calderon during a ceremony held Wednesday at Havana´s Revolution Palace.
Previously, the Mexican President paid Tribute to Cuban National Hero Jose Marti as part of his official agenda on the island.
Upon his arrival at Havana´s Jose Marti International Airport Wednesday afternoon, President Calderon told that during his official talks, he and his host Raul Castro would address issues relevant to bilateral relations between their countries, as well as topics of regional and international interest.
President Calderon also said that he wants to take bilateral relations with Cuba to their highest level. "My visit is in tune with the friendship and brotherhood relations that link the Cuban and the Mexican people," Calderon said.
The Mexican head of state will leave Cuba for Haiti on Thursday morning, and later he will travel to Colombia to participate at the 6th Summit of the Americas, slated to take place April 14 and 15. (Taken from PL)