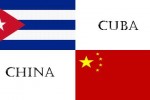 The president of the Cuban Chamber of Commerce (CCC), Estrella Madrigal, spoke on Monday before Chinese business executives about various sectors of her country's economy, with a view to promoting greater investment.
Issues related to legal, business opportunities and bilateral collaboration encouraged the new contacts between the two parties, Madrigal told Prensa Latina shortly after her lecture.
The meeting in the Cuban Embassy in Beijing marked the beginning of a program that will also involve talks with leaders of the Chinese Council for the Promotion of International Trade, which will celebrate its 60th anniversary on Tuesday.
Another objective of the visit is to report on the 13th International Fair of Havana, which is scheduled for November and is expected to be attended by a large group of Chinese business people, as it is traditional.
The presence of Chinese companies in that meeting is growing from year to year, regarding the exhibition areas and participants, as an expression of the economic ties between both nations, highlighted Madrigal.
Taken from Prensa Latina