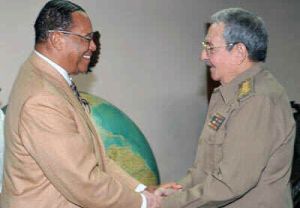 Army General Raul Castro Ruz, President of the Councils of State and Ministers, welcomed on Thursday afternoon Louis Farrakhan, leader of the US organization Nation of Islam.
Raul and Farrakhan exchanged on different aspects of the international situation and the present realities of Cuba and the United States.
The visitor talked to other leaders, gave a lecture at the almost tri-centennial Havana University, and met with relatives of  the five Cuban antiterrorist fighters unjustly held in the United States over 14 years ago.
On the Cuban side Jose Ramon Balaguer Cabrera, member of the Secretariat of the Central Committee of the Cuban Communist Party and Head of its Department of International Relations and Bruno Rodriguez Parrilla, Minister for Foreign Affairs, also participated.
Translated by Escambray