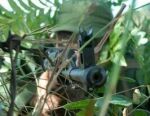 The Cuban Revolutionary Armed Forces (FAR) will begin, on February 1, the period of Defense Preparedness corresponding to 2012 and its most important event will be the Bastion 2012 Strategic Military Exercise.
This period includes carrying out drills, tactical training and campaigns aiming at improving the preparedness to protect the country following the military doctrine of the "War of All the People".
During this period, guiding documents for defense will be studied, and methodological courses will be delivered at different levels such as the Army, Military Region, Large and Medium Units, Angel Luis Martinez, officer of a tank unit in the Western Army, told Prensa Latina.
Another important activity during this period is providing maintenance to arms and all the systems of the technique of instruction, combat and transport, actions that are carried out at FAR repair workshops.