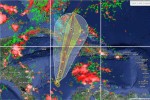 Tropical storm Sandy continued to gain organization and now maintains 75-kilometer-per hour maximum sustained winds with higher gusts as it moves north towards Jamaica after a stationary period.
At 6 a.m. Tuesday Sandy was located at some 515 kilometers south-southeast of Kingston, Jamaica and it is expected to keep moving North-northeast over the next 24 to 48 hours as it keeps increasing speed and intensity, with possibilities to become a hurricane near Jamaica on Wednesday.
The Cuban Weather Institute says it will track of the storm, particularly due to its heavy and intense rains that could pour over the eastern Cuban region over the next few days.
Next advisory will be issued Tuesday at midday.