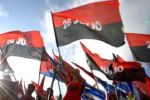 The Political Bureau of the Central Committee of the Party determined to choose the Cuban province of Guantanamo as venue for the 59th commemoration of the National Rebellion Day.
The decision complies with the new method agreed upon to select the territory to host the revolutionary commemoration.
The 26th of July National Rebellion Day commemoration, a homage to the historic significance of the actions performed back in 1953 when the Moncada and Carlos Manuel de Cespedes garrisons were attacked, is proudly paid tribute to by the Cuban revolutionary people.
The different economic and social characteristics of the Cuban territories, make it difficult to be fair when choosing a winner once the special emulation parameters are analyzed.
That is why, the Political Bureau of the Central Committee of the Party agreed to stop the above-mentioned emulation, and from now on, grant the venue on a rotation basis program. Likewise, this body decided to hold the commemoration in Santiago de Cuba every five year.
Source: Cubadebate
Translated by Escambray