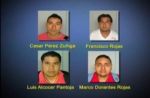 Cuba denounced an operation financed by the U.S. government in March, to create internal disorders in the country during the visit of Pope Benedict XVI to the island.
According to a special program broadcast on Tuesday night by the Cuban television, some days before the Pope's visit, the denominated Cuban Democratic Directorate, an organization from the Central Intelligence Agency (CIA), directed the recruitment of eight young Mexicans to travel to the Caribbean country and promote subversive actions.
Between March 14 and 24, states the article, Cuban authorities detained four of those citizens, which has been recruited by Miguel Angel Pateyro. He had carried out activities to support internal counterrevolutionaries and have traveled to Cuba twice.
Pateyro responds to commands from Rene Bolio, former substituting senator of the Mexican National Action Party and collaborator of that political party that has participated in actions against the island since 1999, coordinated with anti-Cuban organizations in Miami, such as the mentioned Directorate and the Cuban-American National Foundation.
During a television interview, the four detainees, because the other four left the country after carrying out their activities, broadcast details of those actions provided for in Cuban territory.
Luis Antonio Nequiz, one of the Mexican citizens, stated that someone paid for his trip to Cuba. His objective was to draw routes of the zone through which more people walk and could distribute leaflets.
Firstly, they showed us a video of the preparation to come to this country and later we were introduced to two members of the Cuban Democratic Directorate who came from Miami, Moises Torres, another of the detainees, said.
Those people said that among their objectives were to take advantage of the media coverage for the Pope's visit to incite people to protest in the streets and take churches, distribute leaflets, and create disorders during the activities related to his Holiness' stay here.
They were also delivered a set of documents aimed to the members of the dissidence, which, if unable to reach their target, they should be destroyed while they reiterated the importance to behave as simple tourists and try to go unnoticed for authorities.
Although the four men were deported, this was not the only way through which they received instructions from Miami. They had similar attitudes as organizations such as the so-called Republican Party of Cuba, which guided the use of churches for their provocations.
A telephone conversation between Ibrahim Bosch, member of the mentioned party based in Miami, and counterrevolutionary Vladimir Calderon, was also broadcast. They talked about details of payments by the subversive actions to develop in the island.
Taken from Prensa Latina