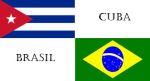 Brazilian Development, Industry and Foreign Trade Minister Fernando Pimentel expressed his satisfaction for having travelled to Cuba, where he arrived August 28 on an official visit.
Minister Pimentel's visit is aimed at deepening economic relations between Brasilia and Havana which, he pointed out, are in their best moment, according to Granma newspaper.
Accompanied by a delegation made up of government officials and entrepreneurs in different economic sectors, the Brazilian minister visited the Havana-based Genetic Engineering and Biotechnology Center (CIGB) as part of his first activities on the island.
During the visit, the distinguished visitor exchanged views with local executives on opportunities for exchange between Cuban and Brazilian scientific institutions.
Pimentel and his delegation have also held working meetings with the vice-president of the Cuban Councils of State and Ministers, Revolution Commander Ramiro Valdes; with the vice-president of the Council of Ministers, Ricardo Cabrisas, and with Foreign Trade and Investment minister Rodrigo Malmierca.
The Brazilian government official also visited on Thursday morning facilities at the Mariel Harbor, west of the capital Havana, whose development is partially being funded through a credit line granted by the Brazilian government.
Brazil is one of Cuba's major economic partners. In 2011 bilateral trade exchange increased by 45 percent with respect to 2010. This growing trend kept steady during the first half of 2012 after trade relations increased by 8 percent with respect to same period last year.
The current visit by the Brazilian minister follows up on systematic bilateral meetings by Cuban and Brazilian officials in different sectors in an effort to boost not only commercial exchange but also relations in the social sector. (Taken from ACN)