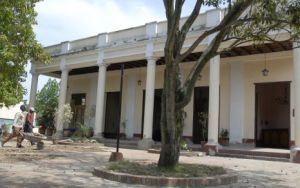 Mainly aimed at saving the garment from forgetfulness, La Guayabera Sociocultural project was born in Sancti Spiritus in 2007. This undertaking, with no precedents in the island, has turned into a cultural  experience in the community.
After four years of existence without permanent headquarters, La Guayabera has finally found a home. The former Quinta Santa Elena restaurant, will keep the collection that owns over a hundred shirts donated by renowned personalities.
It has not been well determined whether the first guayabera shirt was made by a local woman who lived upon the Yayabo river, or by an Iberian tailor who had settled in this village. But, it is a fact that the guayaberas -first known as yayaberas- became very popular in this territory.
With the time, the shirt became famous and has turned, in addition to its almost symbolic value, into a headache for many historians and into a pretext for others who still try to preserve its linage.